☰
Welcome to The Maid of Heaven Foundation



The primary mission of The Maid of Heaven Foundation is to fight evil and restore freedom to our world today by helping all freedom loving people to be able to effectively fight and overcome evil by learning from and being inspired by one of the greatest and most admired people to ever live: Saint Joan of Arc. We at The Maid of Heaven Foundation feel that by teaching St. Joan's true history as we do we can instill in all people the same passion that she possessed to Love God and Live Free which was the secret to her incredible success in life and the key today to defeating the forces of evil and restoring freedom to all of humanity.
LOVE GOD! The example of Joan of Arc's faith and love for God is so powerful that it inspires virtually everyone and can help those that have no faith to want to know God and can also help those who already believe to obtain a much deeper faith and relationship with God.
LIVE FREE! The very name Joan of Arc symbolizes freedom because of the great military victories and leadership that Joan provided to her people in gaining freedom from the tyranny of a foreign invader. At a time such as we are now living in where so many people in the world, even Americans, no longer seem to know how to live free it is Joan who gives us the pure example of what it means to be free and how to properly fight for freedom.
These two guiding principles inspired by St. Joan and her incredible life influence everything that The Maid of Heaven Foundation does to achieve our mission. For more details about us please visit our Who We Are page. Ultimately The Maid of Heaven Foundation is dedicated to anyone anywhere who has ever had a passion in their heart like St. Joan of Arc to BE A SOLDIER OF GOD for His Glorious Cause of FREEDOM!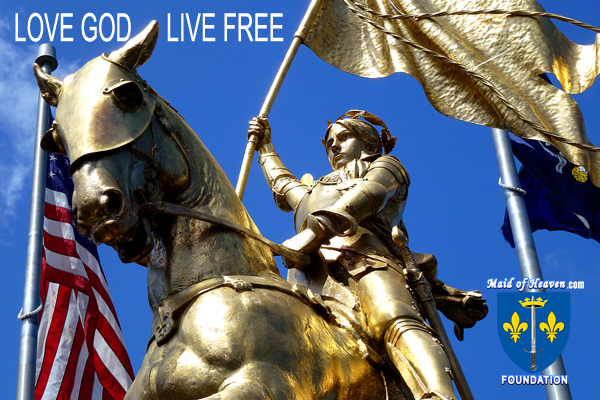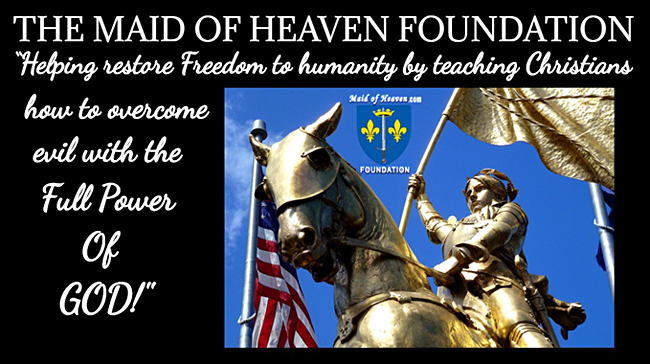 A Message From The Founder of
The Maid of Heaven Foundation


I began the Maid of Heaven Foundation in 2016 as a way to help Christians today to be more like St. Joan of Arc and do more than just hide in churches on Sunday. This may sound a bit harsh for me to say it this way but the pain of seeing our society turn more and more into a modern day Sodom and Gomorrah causes me to have little patience for saying it more gentle. That Christians today have become so inept at being able to effectively resist and overcome evil is a great tragedy that must be remedied if we truly care about pleasing our Father in Heaven who expects us to always be shining lights overcoming darkness in our world.



"…a man of understanding shall attain unto wise counsels." (Proverbs 1:5)


We are all very fortunate to be able to learn from and be inspired by one of God's most brilliantly shining lights which is why the Maid of Heaven Foundation is named in honor of St. Joan of Arc. When God sent St. Joan into my life many years ago I had no idea how much He would use her to bring me closer to Him. The great lessons I have learned about God from her are ones that every Christian should know who desires to be an effective force for good in our evil infested world. And what may be the greatest lesson of all that I have learned from St. Joan of Arc is just how much God wants us to be inspired by the great "cloud of witnesses" (Hebrews 12:1) all around us to live out our lives to the fullest measure of devotion to Him as His saints like Joan have always done.

The Maid of Heaven Foundation therefore exists to help all Christians to actually be able to do more than just hide in churches on Sunday. In order to become a great saint of God like Joan of Arc it takes a lot more than just having a lukewarm lightweight faith and the leadership and resources provided by this Foundation will help anyone to be able to become much closer to God. I am particularly pleased with our FREE spiritual training program for helping Christians today to be able to Unleash God's Full Power because it is based upon the teachings of Jesus and the examples of His saints who lived out these teachings in such a powerful way during their lives for the Glory of God.

If there has ever been a time in world history when powerful Christians are needed to step up and combat all the evil threatening to overwhelm our society that time is now. With the Blessing of God and the inspiration of all His saints who have gone before us we will help Christians today to become just such saints of God for the good of all humanity and His Eternal Glory!

&nbsp &nbsp &nbsp &nbsp &nbsp &nbsp &nbsp &nbsp &nbsp &nbsp &nbsp &nbsp &nbsp &nbsp &nbsp &nbsp &nbsp &nbsp &nbsp &nbsp &nbsp &nbsp &nbsp &nbsp &nbsp &nbsp &nbsp &nbsp &nbsp &nbsp &nbsp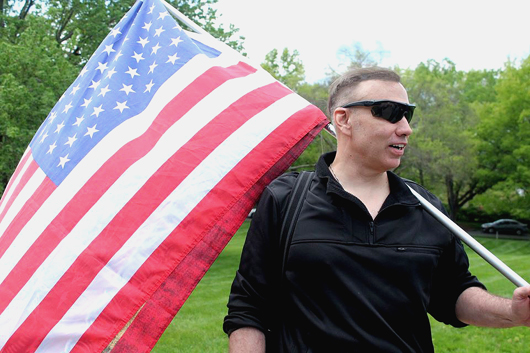 ★HOW YOU CAN HELP★
If you admire Saint Joan of Arc and believe as we do that teaching her life's story is a powerful way to inspire people everywhere to achieve excellence in their own lives for the betterment of all humanity then please JOIN US here at The Maid of Heaven Foundation and BECOME A PART OF OUR ARMY THAT IS FIGHTING EVIL AND RESTORING FREEDOM TO HUMANITY! The Maid of Heaven Foundation is a non-profit charitable organization established in 2016 that is approved by the IRS as a charity so your donations are tax-deductible. Any and all donations are greatly appreciated and help us to achieve our mission including keeping The MaidOfHeaven.com website online which is the world's largest educational resource about Joan of Arc. To make a donation by credit card simple click the button below or choose one of the support level options listed next on this page.
★BECOME A MEMBER OF THE MAID OF HEAVEN FOUNDATION AND RECEIVE THE 2022 JOAN OF ARC PRINT AND GAIN FULL ACCESS TO THE FOUNDATION WEBSITE! Anyone who donates at least $30 will automatically become a full member of The Maid of Heaven Foundation for one year and receive the 2022 Joan of Arc Print shown below as a thank you gift. This beautiful Joan of Arc artwork is suitable for framing and will fit well in any standard 8x10 picture frame. For more details please click the picture below to see the full size of the print and see how great it looks framed. Go Here for information about Family Memberships. Another great benefit of becoming a full member is access to all of our special resources listed on the MEMBER RESOURCES PAGE accessible only with a username and password that you will receive after you join. ***ADDITIONAL GIFTS TO EVERYONE WHO DONATES AT LEAST $30*** Will Include a 4x6 Photograph of Joan of Arc on Horseback as shown above on this Page!
THE BEAUTIFUL 2022 JOAN OF ARC PRINT BELOW IS NOW AVAILABLE!
(frame not included)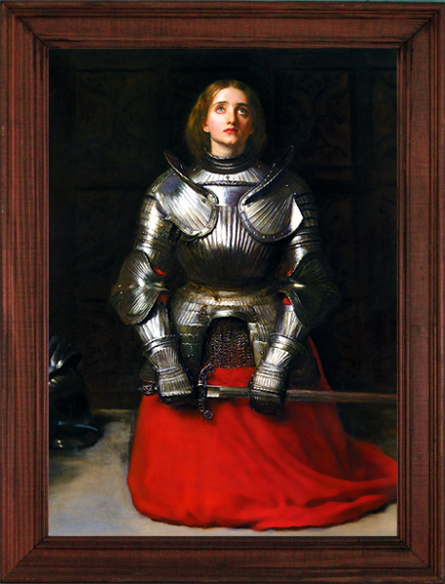 ★★BECOME A SOLDIER IN OUR ARMY!
"WE FIGHT NOT AGAINST FLESH AND BLOOD BUT AGAINST PRINCIPALITIES, AGAINST POWERS, AGAINST THE FORCES THAT CONTROLS THIS WORLD'S DARKNESS, AGAINST THE SPIRITUAL ARMY OF EVIL IN THE HEAVENLY REALMS"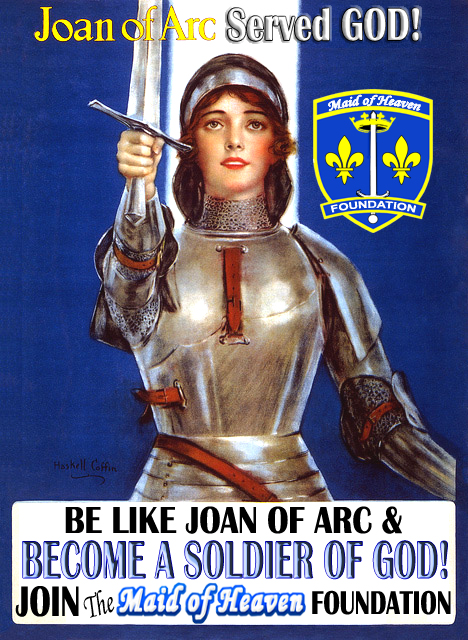 AND WEAR THE MAID OF HEAVEN FOUNDATION T-SHIRT AND PATCHES! Anyone who donates at least $50 will become a Soldier in the Maid of Heaven Foundation Army and receive one of our St. Joan of Arc Quote T-shirts (please let us know your t-shirt size of either XL, L, or M with your donation) and receive both Maid of Heaven Foundation Patches pictured below: our new Onward Christian Soldiers patch and the Foundation Patch displaying our spectacular knight's shield modeled after St. Joan's famous coat-of-arms. You will also receive the 2022 Joan of Arc Print shown above and the other Gifts listed for regular members.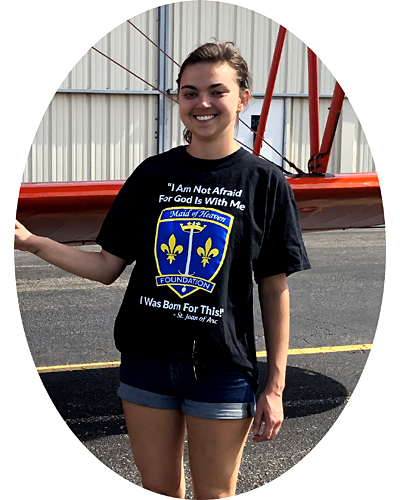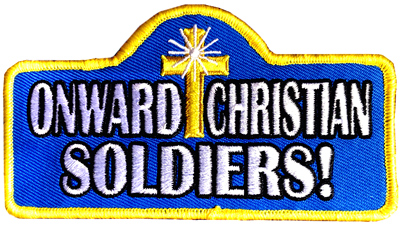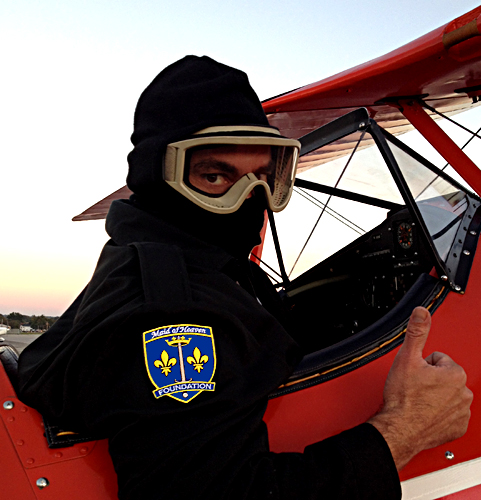 ★★★BECOME AN EAGLES WINGS SUPPORTER AND RECEIVE THE SPECTACULAR
8 X 10 MOUNT UP WITH WINGS AS EAGLES PHOTOGRAPH! The airplane(learn more click here) in our Mount Up With Wings As Eagles Photograph below HONORS ALL AMERICAN SOLDIERS & ALL FREEDOM FIGHTERS THROUGHOUT HISTORY and was built in 1940 to help train the pilots that were needed to fight the tyranny of fascism during WWII. Unfortunately there is an even greater need today to educate and train people how to resist and fight tyranny which is a central part of the work that The Maid of Heaven Foundation does every day but WE NEED YOUR HELP! Please consider donating at least $75 and become an Eagles Wings Supporter to help us to better accomplish our mission of educating and inspiring people everywhere to live free! With your gift of at least $75 you will receive an 8 X 10 copy of our spectacular Mount Up With Wings As Eagles Photograph along with a Rebel Yell! Velcro Patch as well as the 2022 Joan of Arc Print, Foundation T-Shirt and Patch and other Gifts.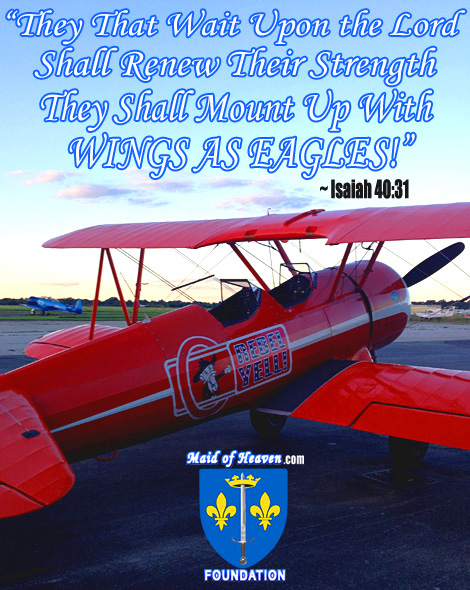 ★★★★BECOME AN ELITE SPECIAL FORCE SUPPORTER AND RECEIVE A SIGNED COPY OF THE BOOK MAID OF HEAVEN: THE STORY OF SAINT JOANOF ARC! Anyone who donates at least $100 or more will receive a signed copy of the book Maid of Heaven along with the 2022 Joan of Arc Print and all the other Gifts at the Member & Soldier Level which includes the Maid of Heaven Foundation Patch and T-Shirt shown above. Genuine new copies of the book Maid of Heaven are only available through The Maid of Heaven Foundation and each one is personally signed by author Ben D. Kennedy. This is THE BOOK ABOUT JOAN OF ARC that inspired the creation of MaidOfHeaven.com and The Maid of Heaven Foundation and will inspire everyone who reads it with the unforgettable and inspiring story of THE Maid of Heaven: St. Joan of Arc. Click here for more details about the book Maid of Heaven: The Story of Saint Joan of Arc Help us to restore Freedom to humanity NOW! and be inspired by the greatest Freedom Fighter to ever live: St. Joan of Arc!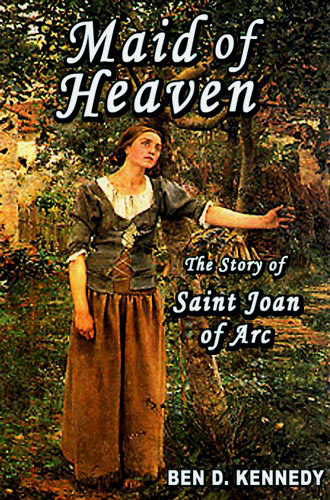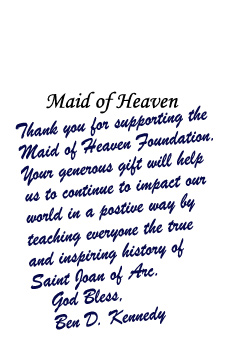 EVERYONE WHO BECOMES A SUPPORTER OF
THE MAID OF HEAVEN FOUNDATION
AT ANY LEVEL
GAINS IMMEDIATE ONLINE ACCESS TO
THE ENTIRE BOOK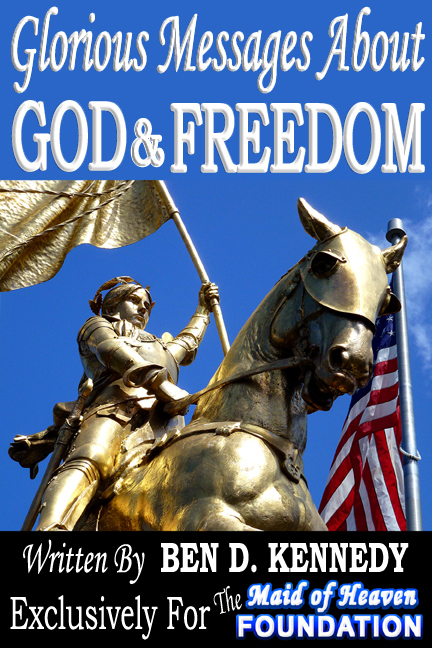 WAYS THE MAID OF HEAVEN FOUNDATION GOES ABOUT ACCOMPLISHING OUR MISSION:

- HELPING CHRISTIANS TO BE GOOD SOLDIERS OF CHRIST!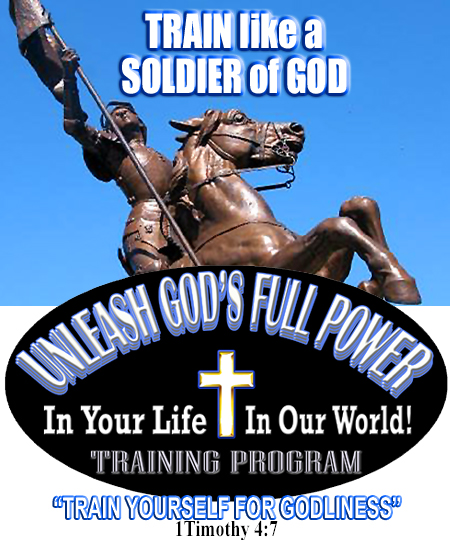 This special training program is completely FREE and available to anyone who wants to use it to become "a good soldier of Christ" and be able to unleash God's full power in their life and in our world. By helping Christians to be able to become all that they are called to be for God we are helping to restore Freedom to all of humanity so please help us by encouraging everyone to participate with us in this Divine calling. Please click the logo above to learn more about this FREE training program that can radically transform you into a powerful force for good in our evil infested world and click the second image directly below to signup to receive the FREE weekly devotional messages designed to be used with this program.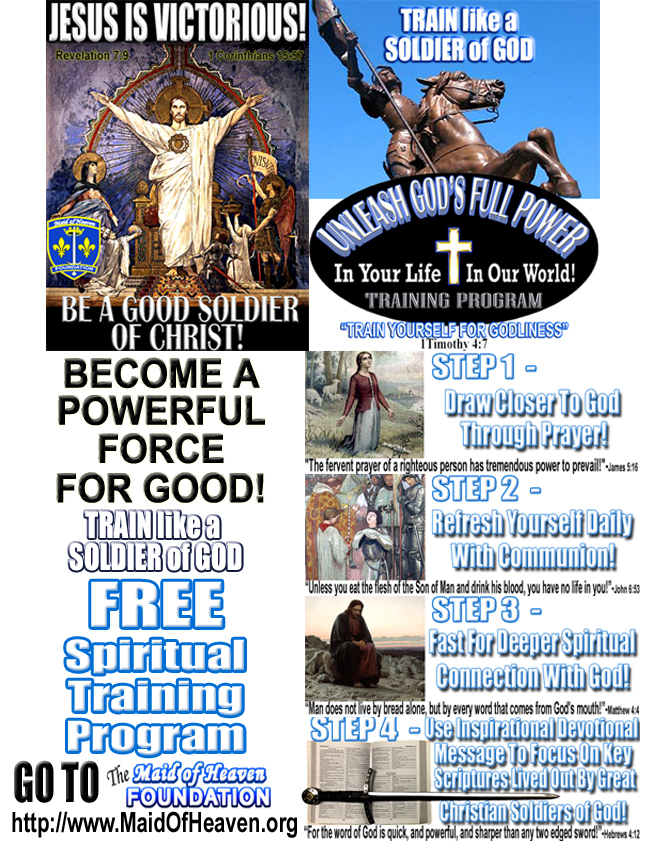 READ TODAY'S INSPIRATIONAL DEVOTIONAL MESSAGE HERE NOW!
- HOSTING THE WORLD'S LARGEST WEBSITE ALL ABOUT SAINT JOAN OF ARC!
Containing the equivalent to over 100K traditional books pages about St. Joan the MaidOfHeaven.com website is a massive online library of information that properly honors St. Joan and teaches her true history in order to inspire everyone to want to be like her and Love God & Live Free! If you have never visited MaidOfHeaven.com before please do so now by clicking the image below to see for yourself what a tremendous gift to the world this website is from all of us here at The Maid of Heaven Foundation!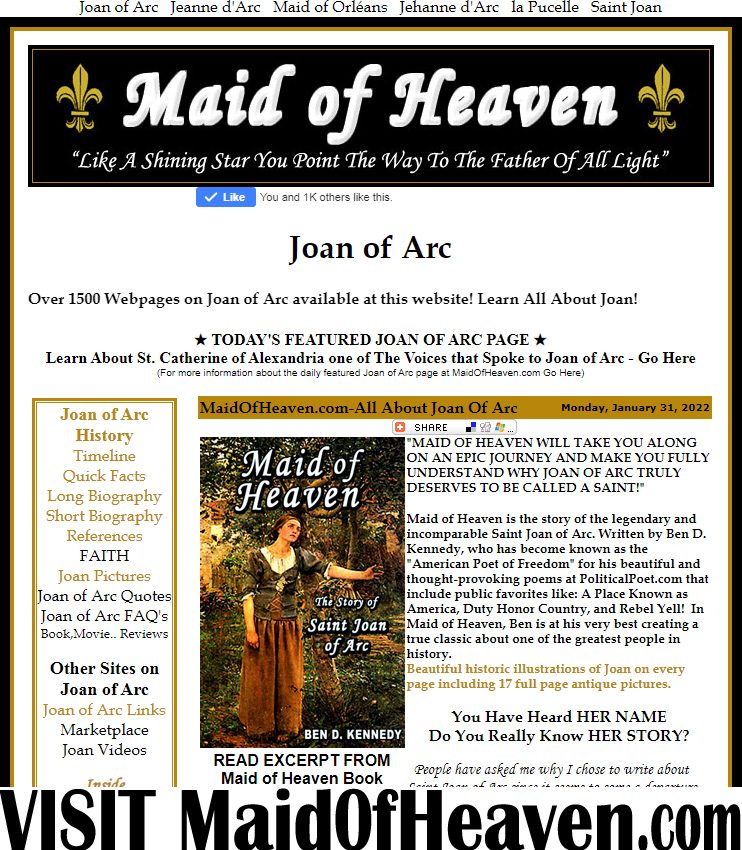 - RESTORING THE SPIRITUAL FOUNDATION OF FREEDOM TO THE USA!
The Maid of Heaven Foundation is taking the lead in helping to restore the Spiritual Foundation of Freedom to the USA because this was exactly what St. Joan of Arc herself did for her people and what is so desperately needed in America today. Please click on the picture below for more details about what you can do to help us restore the Spiritual Foundation of Freedom to our troubled country.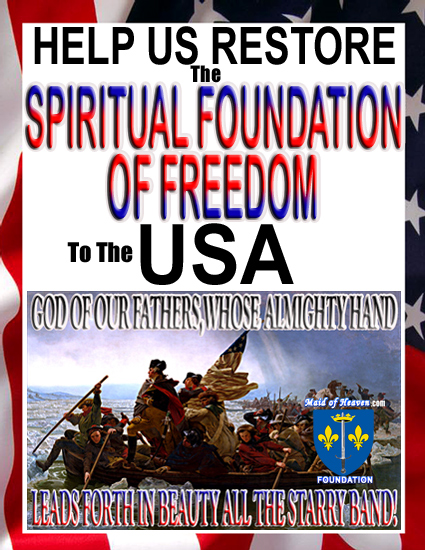 - CELEBRATING THE VICTORY OF JESUS CHRIST ON EASTER MORNING!
Every year The Maid of Heaven Foundation celebrates the victory of Jesus Christ over the tyranny of sin and death with an Easter Sunrise Service at a local cemetery.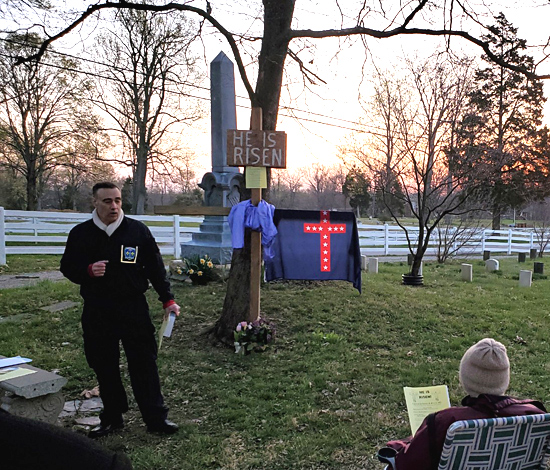 - RESTORING THE TRUE MEANING TO CHRISTMAS!
"You hold in your hands the amazing true story of the greatest birth in all of human history: THE BIRTH OF JESUS CHRIST. For over two thousand years people have celebrated His birth because it shows so dramatically the incredible love that God Almighty has for all of us. Sadly the great significance of THE BIRTH on that first Christmas day is no longer well understood by people today and the telling of this incredible story has even been replaced during Christmas by a fantasy poem about a jolly fat man in a red suit giving gifts of insignificant value. God has given us all A GIFT BEYOND COMPARE and this poem about THE BIRTH of Christmas declares it again for all the world to hear!"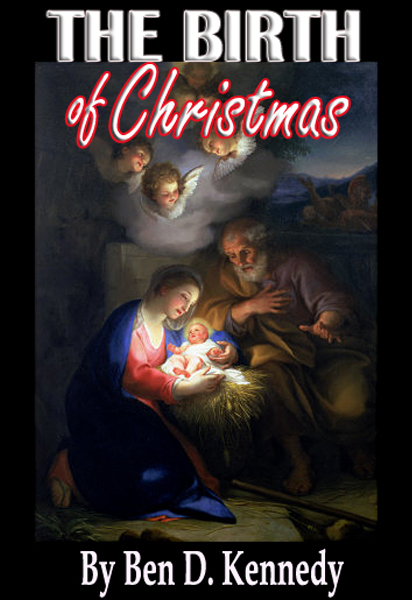 - SPONSORED PATRIOT DAY 2ND AMENDMENT RALLY!
On May 24, 2020, The Maid of Heaven Foundation sponsored a rally for Freedcm loving people that was a very special day about honoring the Original American Patriots and learning how to be more like them in their Love of God and Freedom. CLICK THE IMAGE BELOW TO LEARN MORE about this special event!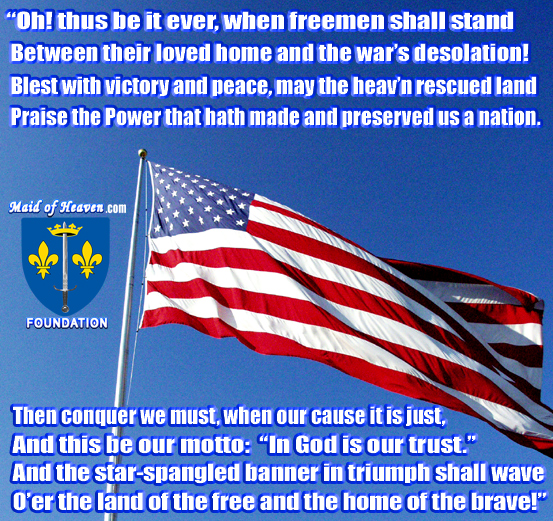 - GETTING PEOPLE TOGETHER WHO HAVE A PASSION FOR FREEDOM IN LOCAL GROUPS As Edmund Burke the favorite philosopher of America's Founding Fathers once said: "When bad men combine, the good must associate." The Maid of Heaven Foundation is therefore encouraging everyone who has a passion for Freedom like St Joan of Arc to get together with other like-minded people and organize yourselves into local groups to inspire and encourage each other. Such small groups are a great way to really fan the "brushfires of freedom" in the minds of people everywhere by learning more about great freedom fighters like St. Joan of Arc and utilizing all the resources about God and Freedom available through The Maid of Heaven Foundation. You can also enjoy socializing at events like parties to celebrate St. Joan of Arc's Birthday on January 6th every year. So find some good people around you to associate with and become a part of our army here at The Maid of Heaven Foundation that is fighting hard to restore Freedom to humanity.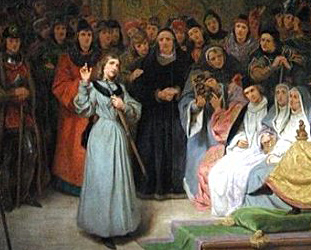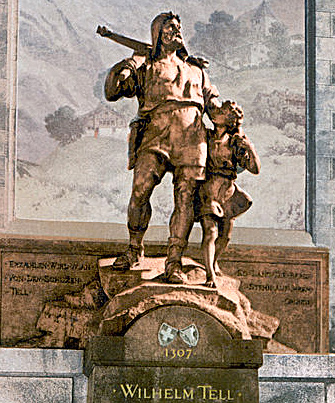 The Maid of Heaven Foundation is sponsoring The William Tell Project as a way for anyone anywhere to become involved with the fight for freedom. You do not need to be a member of our Foudation or any other group to help out. You simply need to have a passion for freedom and a desire to join in with all of us in sharing with everyone the one of the greatest stories about freedom ever recorded in literature. For more details on how you can participate please click on the picture above of William Tell or the one below to go to the Project's homepage:

JOIN IN WITH THE TENS OF THOUSANDS OF PEOPLE ALREADY PARTICIPATING IN THE WILLIAM TELL PROJECT!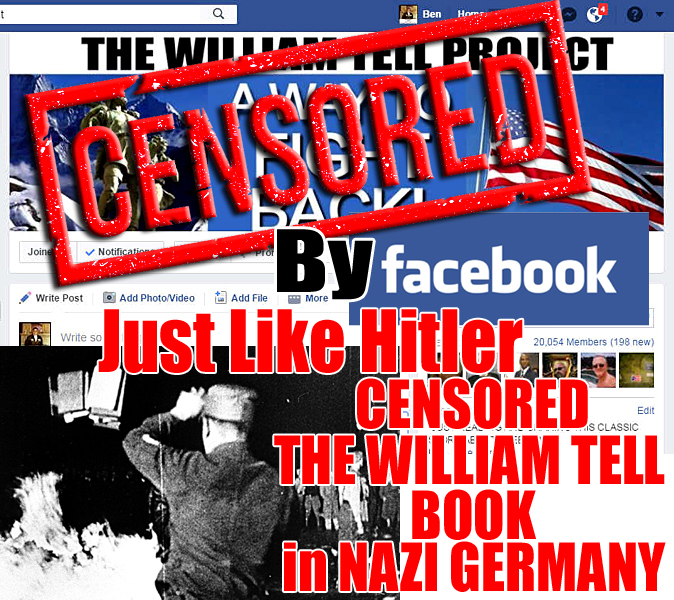 Anti-FREEDOM sites like facebook may have banned William Tell but you can still find the full book on our site HERE and help us share this powerful story of FREEDOM that "THEY" are so afraid of!
- MAID OF HEAVEN FOUNDATION FREEDOM QUOTES
Each and every day The Maid of Heaven Foundation features a famous Freedom Quote to help encourage and inspire you with the wisdom of great freedom fighters of past renown.

To See Today's Famous Freedom Quote Click the Image Below: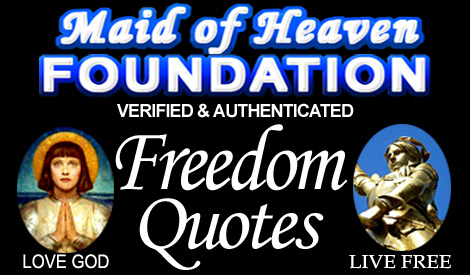 GO HERE for
MEMBER RESOURCES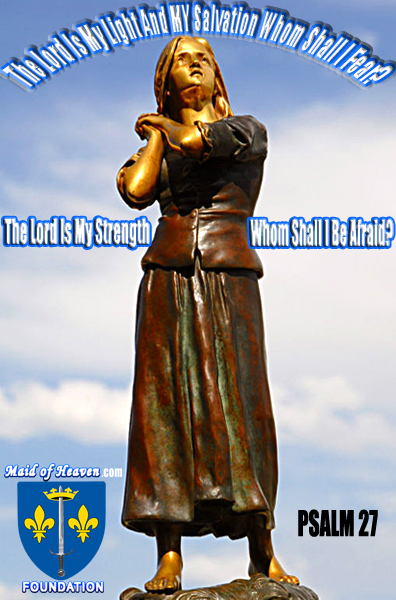 Get Your Joan of Arc T-Shirt HERE Today!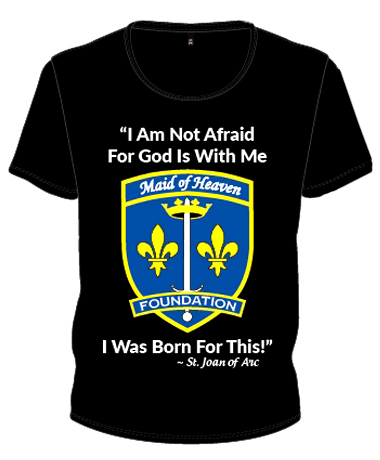 Please Consider Shopping With One of Our Supporters!